Venue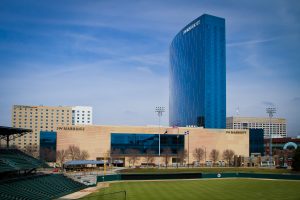 The CLEAN WATERWAYS event has been postponed until August 3-5, 2020. The event will still take place at the original venue, the JW Marriott in Indianapolis, IN. Indy welcomes us with fast cars, a growing culinary and brewing scene and great hospitality.
10 S West St.
Indianapolis, IN 46204
Hotel Accommodations
BOOK YOUR ROOM
A block of rooms has been secured for CLEAN WATERWAYS attendees at the same discounted rate of $179 per night with complimentary guest room internet. The JW Marriott serves as our meeting space and exhibit hall location, making this hotel the most convenient place to stay.
$179/night: Book a standard hotel room online
$128/night: Book a government rate room online 
All prior hotel reservations that were made over the original April dates have already been cancelled. Each individual guest must make a new reservation by booking through the links above. All reservations must be accompanied by a first night room deposit or guaranteed with a major credit card. Check-in time is 3:00 PM on the day of arrival and check-out time is 11:00 AM on the day of departure. Please contact Ashlyn Geoffrey at ageoffrey@accessintel.com with any questions.
CANCELLATION POLICY
You may cancel your reservation for no charge until 48 hours prior to your scheduled arrival date.  After 48 hours a one night's room and tax of your stay will be charged.
**BEWARE OF MISLEADING ADVERTISING OFFERS THAT CLAIM TO PROVIDE ACCESS TO THE CLEAN WATERWAYS HOTEL BLOCK**
We have been made aware that certain companies are targeting CLEAN WATERWAYS exhibitors and attendees to secure hotel rooms through them. We do not have an official housing partner and all legitimate housing updates will come directly from the CLEAN WATERWAYS team. These third-party companies are attempting to contact our customers claiming to provide official accommodations but they are not affiliated with the brand and we cannot guarantee their legitimacy. The only way to ensure you are booking rooms in our official hotel blocks is to book directly from the links and/or phone numbers listed on our website.
ONSITE AND OFFSITE PARKING
Self-parking, fee: $47 daily
Self-parking is located off of Washington St past the Courtyard and SpringHill Suites hotels – 2nd entrance off of Maryland St.
Valet parking, fee: $52 daily
For additional parking options outside of the JW Marriott, check out other lots within walking distance or Downtown Indy's Official Parking Guide.
Transportation
Traveling to and around Indianapolis is easy, convenient and affordable. Known as the Crossroads of America, Indy is within a day's drive of over half of the country's population. For those arriving by air, the LEED-certified Indianapolis International Airport is a short, low-traffic 15 minutes from downtown.
HOW TO GET AROUND INDIANAPOLIS 
Public Transportation: IndyGo provides bus service with over 30 fixed routes from their downtown transportation hub. The new Red Line is Indy's first bus rapid transit line with electric buses, platform boarding, and high-frequency service along 13 miles.
Taxis: Select taxi companies agreed to a standard $5 fare for rides that begin and end in the regional center. For all licensed taxi companies click here.
Car Service Apps: Indianapolis is Uber and Lyft friendly.
Learn more about the ins and outs of Indy on foot, bike or in a vehicle here
Airline Discounts
Delta Air Lines is pleased to offer special discounts for CLEAN WATERWAYS attendees.  Please click here to book your flights. You may also call Delta Meeting Network® at 1.800.328.1111* Monday–Friday, 7:00 a.m. – 7:30 p.m. (CT) and refer to Meeting Event Code NMTTD
*Please note there is not a service fee for reservations booked and ticketed via our reservation 800 number.
United Airlines is pleased to offer discounts off published fares for CLEAN WATERWAYS attendees. You may book online at www.united.com and enter your offer code (ZHR8505409) in the Offer Code box when searching for your flights. If booking through a travel professional or United Meetings at 800-426-1122, please give them the following information:
Agreement Code: 505409
Z Code: ZHR8
Outside of the United States, please call your local United Airlines Reservation Office. Experience dependable, first-rate service and earn miles in MileagePlus®, United's award-winning frequent flyer program. To enroll in MileagePlus®, log on to www.united.com.
Local Attractions
Weather in Indianapolis
Be prepared for the weather forecast during your stay.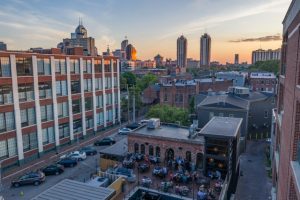 Cultural Districts
Downtown Indy has six thriving Cultural Districts, each offering a distinct mix of shopping, dining and entertainment. From Mass Ave to Fountain Square, the internationally-acclaimed Cultural Trail connects visitors with these unique neighborhoods. Hop on one of the 525 bikes from Pacers Bikeshare to explore the city, and dock it at one of the 50 stations once you are done.
Eating & Drinking
Indianapolis offers diverse dining and beverage options for all palates and price points. With its rich soil and surrounding agriculture, Indy has been supporting farm-to-table restaurants for decades, with local farmers providing the freshest in produce and protein to menus. International fare, world-famous steakhouses, and sports bars with plenty of televisions for viewing the big game are just around the corner. With Indy's award-winning craft beer scene thriving and growing by the minute, you can find breweries ranging from small taprooms to large warehouses, offering a different pint for every palate.
Nightlife
When the work day is over, Indianapolis comes alive with hundreds of places for good times, good drinks, and good conversation. From happy hour hotspots to late night live music venues and craft cocktails, attendees will find themselves in an activated downtown with endless entertainment and networking options conveniently close by.
Shopping
You won't want to leave Indianapolis empty handed, so be sure to visit one of the of the many shops and retail pockets throughout the city. Browse the more traditional four-story Circle Centre Mall or explore the many cultural districts for locally-made goods or Indy-only gifts.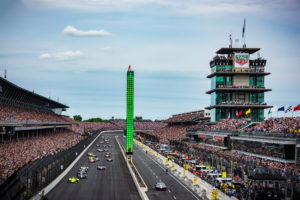 Sports & Recreation
Collegiate, amateur, professional – Indy offers sports and recreation of all kinds. The city is home to the world famous Indianapolis Motor Speedway, top-ranked sporting teams, award-winning facilities, and plenty of trails for walking and biking.
Theatre
Live theatre is thriving in Indianapolis, and talent can be found around every corner. You can find tickets for a variety of professional productions or eclectic and quirky performances.
Museums & Attractions
Indianapolis museums and art galleries have garnered international recognition for creativity and excellence. Open your mind and ind yourself at one of these unique institutions throughout the city.
Getting Active
As one of the country's most walkable cities, Indianapolis promotes active, healthy travel. The numerous parks, paths and recreational amenities make Indy conducive to hosting energetic visitors of all ages and ability. Stretch your legs along the refurbished Canal Walk or pound some pavement at one of these top places to walk, run and bike.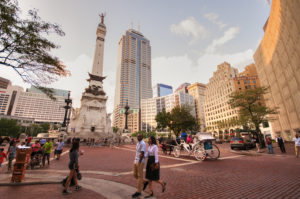 Monuments & Memorials
Indianapolis is home to more memorials honoring our nation's veterans than any other city in the United States, second only to Washington, D.C. Acres upon acres are dedicated to honoring and remembering past heroes.
Green Scene
Indianapolis, its hotels and venues, and the Indiana Convention Center are committed to green operations and environmentally-conscious meetings.